Files
Billboard Hot 100 Singles Chart (09.11.2019) Mp3 320kbps Songs [PMEDIA]
(728.44 MB)
▼ show more 86 files
| | | |
| --- | --- | --- |
| | 001.Selena Gomez - Lose You To Love Me.mp3 | 8.21 MB |
| | 002.Lewis Capaldi - Someone You Loved.mp3 | 7.09 MB |
| | 003.Post Malone - Circles.mp3 | 8.32 MB |
| | 004.Shawn Mendes - Senorita.mp3 | 7.48 MB |
| | 005.Lizzo - Truth Hurts.mp3 | 6.67 MB |
| | 006.Lizzo - Good As Hell.mp3 | 6.2 MB |
| | 007.Kanye West - Follow God.mp3 | 4.11 MB |
| | 008.Chris Brown - No Guidance.mp3 | 10.23 MB |
| | 009.Lil Nas X - Panini.mp3 | 4.56 MB |
| | 010.Billie Eilish - bad guy.mp3 | 7.49 MB |
| | 011.Maroon 5 - Memories.mp3 | 7.47 MB |
| | 012.Dan + Shay - 10,000 Hours.mp3 | 6.46 MB |
| | 013.Lil Tecca - Ransom.mp3 | 5.38 MB |
| | 014.Travis Scott - HIGHEST IN THE ROOM.mp3 | 6.92 MB |
| | 015.Ed Sheeran - Beautiful People (feat. Khalid).mp3 | 7.77 MB |
| | 016.Shaed - Trampoline.mp3 | 7.18 MB |
| | 017.Kanye West - Closed On Sunday.mp3 | 5.91 MB |
| | 018.Juice Wrld - Bandit.mp3 | 7.46 MB |
| | 019.Kanye West - Selah.mp3 | 6.4 MB |
| | 020.Ed Sheeran - I Don't Care.mp3 | 8.62 MB |
| | 021.Lil Nas X - Old Town Road (Remix).mp3 | 6.17 MB |
| | 022.Jonas Brothers - Only Human.mp3 | 7.2 MB |
| | 023.Kanye West - On God.mp3 | 5.32 MB |
| | 024.Post Malone - Goodbyes.mp3 | 6.78 MB |
| | 025.Khalid - Talk.mp3 | 7.71 MB |
| | 026.Jonas Brothers - Sucker.mp3 | 7.12 MB |
| | 027.Selena Gomez - Look At Her Now.mp3 | 6.3 MB |
| | 028.Old Dominion - One Man Band.mp3 | 7.25 MB |
| | 029.Wale - On Chill (feat. Jeremih).mp3 | 8.54 MB |
| | 030.Sam Smith - How Do You Sleep_.mp3 | 7.82 MB |
| | 031.Mustard - Ballin'.mp3 | 7.02 MB |
| | 032.Drake - Money In The Grave.mp3 | 7.97 MB |
| | 033.Kanye West - Everything We Need.mp3 | 4.57 MB |
| | 034.Summer Walker - Playing Games (Extended Version).mp3 | 5.68 MB |
| | 035.Young Thug - Hot (feat. Gunna).mp3 | 7.99 MB |
| | 036.Kanye West - God Is.mp3 | 7.87 MB |
| | 037.Kanye West - Use This Gospel.mp3 | 8.28 MB |
| | 038.Quality Control - Baby.mp3 | 5.66 MB |
| | 039.DaBaby - Suge.mp3 | 6.42 MB |
| | 040.Luke Combs - Even Though I'm Leaving.mp3 | 8.69 MB |
| | 041.Tones and I - Dance Monkey.mp3 | 8.26 MB |
| | 042.Sam Smith - Dancing With A Stranger.mp3 | 6.65 MB |
| | 043.Megan Thee Stallion - Hot Girl Summer (feat. Nicki Minaj & Ty Dolla $ign).mp3 | 7.97 MB |
| | 044.Michael Jackson - Thriller.mp3 | 13.81 MB |
| | 045.Kanye West - Every Hour.mp3 | 4.4 MB |
| | 046.Chris Brown - Heat.mp3 | 9.17 MB |
| | 047.Marshmello - One Thing Right.mp3 | 7.22 MB |
| | 048.Taylor Swift - Lover.mp3 | 8.58 MB |
| | 049.NF - Time.mp3 | 9.34 MB |
| | 050.Halsey - Graveyard.mp3 | 7.21 MB |
| | 051.Kanye West - Water.mp3 | 6.54 MB |
| | 052.Taylor Swift - You Need To Calm Down.mp3 | 6.68 MB |
| | 053.Saweetie - My Type.mp3 | 5.26 MB |
| | 054.Russell Dickerson - Every Little Thing.mp3 | 7.47 MB |
| | 055.NLE Choppa - Camelot.mp3 | 5.84 MB |
| | 056.Matt Stell - Prayed For You.mp3 | 8.16 MB |
| | 057.Blackbear - hot girl bummer.mp3 | 7.22 MB |
| | 058.Camila Cabello - Liar.mp3 | 8.03 MB |
| | 059.Post Malone - Take What You Want.mp3 | 8.87 MB |
| | 060.Kanye West - Hands On.mp3 | 7.87 MB |
| | 061.YNW Melly - 223's (feat. 9lokknine).mp3 | 7.08 MB |
| | 062.Chris Janson - Good Vibes.mp3 | 6.49 MB |
| | 063.Kanye West - Jesus Is Lord.mp3 | 2 MB |
| | 064.YoungBoy Never Broke Again - Lonely Child.mp3 | 8.67 MB |
| | 065.DaBaby - Baby Sitter.mp3 | 6.2 MB |
| | 066.Brantley Gilbert - What Happens In A Small Town.mp3 | 7.97 MB |
| | 067.DaBaby - VIBEZ.mp3 | 5.76 MB |
| | 068.Ellie Goulding - Hate Me.mp3 | 7.3 MB |
| | 069.Maren Morris - The Bones.mp3 | 7.72 MB |
| | 070.YoungBoy Never Broke Again - Make No Sense.mp3 | 6.03 MB |
| | 071.DaBaby - BOP.mp3 | 6.32 MB |
| | 072.Keith Urban - We Were.mp3 | 7.46 MB |
| | 073.Post Malone - Enemies.mp3 | 7.61 MB |
| | 074.Cole Swindell - Love You Too Late.mp3 | 8.07 MB |
| | 075.Roddy Ricch - Start Wit Me (feat. Gunna).mp3 | 5.78 MB |
| | 076.YoungBoy Never Broke Again - Self Control.mp3 | 7.45 MB |
| | 077.Lil Tjay - F.N.mp3 | 8.66 MB |
| | 078.Layton Greene - Leave Em Alone.mp3 | 6.71 MB |
| | 079.Chris Lane - I Don't Know About You.mp3 | 8.21 MB |
| | 080.Megan Thee Stallion - Cash Shit (feat. DaBaby).mp3 | 7.68 MB |
| | 081.Thomas Rhett - Remember You Young.mp3 | 7.12 MB |
| | 082.Kenny Chesney - Tip of My Tongue.mp3 | 7.86 MB |
| | 083.Chance the Rapper - Hot Shower.mp3 | 8.83 MB |
| | 084.Anuel Aa - China.mp3 | 11.83 MB |
| | 085.Jon Pardi - Heartache Medication.mp3 | 8.33 MB |
| | 086.Niall Horan - Nice To Meet Ya.mp3 | 6.24 MB |
| | 087.Sam Hunt - Kinfolks.mp3 | 7.14 MB |
| | 088.Joji - SLOW DANCING IN THE DARK.mp3 | 8.2 MB |
| | 089.Summer Walker - Come Thru.mp3 | 7.12 MB |
| | 090.DaBaby - INTRO.mp3 | 6.82 MB |
| | 091.YoungBoy Never Broke Again - Hot Now.mp3 | 5.26 MB |
| | 092.Y2K - Lalala.mp3 | 6.33 MB |
| | 093.Luke Bryan - What She Wants Tonight.mp3 | 7.34 MB |
| | 094.Lady Antebellum - What If I Never Get Over You.mp3 | 8.1 MB |
| | 095.Harry Styles - Lights Up.mp3 | 6.68 MB |
| | 096.Dierks Bentley - Living.mp3 | 8.67 MB |
| | 097.J Balvin - LA CANCION.mp3 | 9.52 MB |
| | 098.Ariana Grande - Don't Call Me Angel (Charlie's Angels).mp3 | 7.41 MB |
| | 099.Kygo - Higher Love.mp3 | 8.8 MB |
| | 100.Internet money - Somebody.mp3 | 6.74 MB |
| | cover.jpg | 72.22 KB |
Description
   VA - Billboard Hot 100 Singles Chart (09.11.2019) [Mp3 320kbps Quality Songs]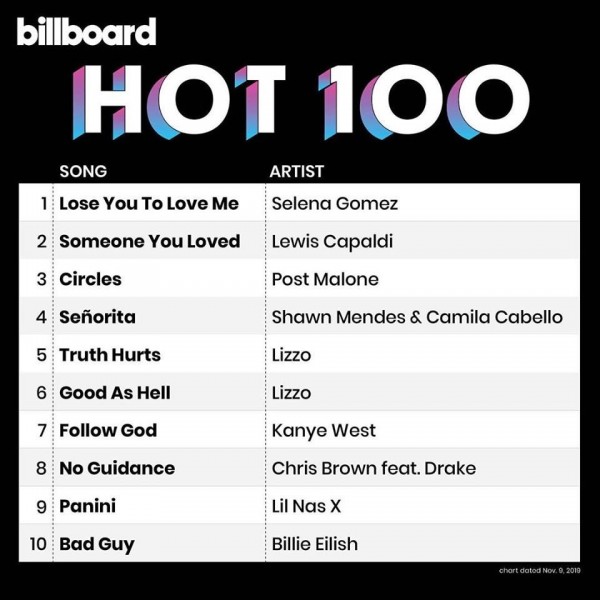 Info: www.billboard.com/charts/the-billboard-hot-100/2019-11-09
Artist: Various
Title: Billboard Hot 100 Singles Chart (09.11.2019)
Genre: Pop, Dance, Indie, Folk, Hip-Hop, RnB
Total Tracks: 100
Total Size: 728 MB   
Quality:  Mp3 320 kbps  
Album Art For Each Song
Tracklist:
001.Selena Gomez - Lose You To Love Me
002.Lewis Capaldi - Someone You Loved
003.Post Malone - Circles
004.Shawn Mendes - Señorita
005.Lizzo - Truth Hurts
006.Lizzo - Good As Hell
007.Kanye West - Follow God (New Entry)
008.Chris Brown - No Guidance
009.Lil Nas X - Panini
010.Billie Eilish - bad guy
011.Maroon 5 - Memories
012.Dan + Shay - 10,000 Hours
013.Lil Tecca - Ransom
014.Travis Scott - HIGHEST IN THE ROOM
015.Ed Sheeran - Beautiful People (feat. Khalid)
016.Shaed - Trampoline
017.Kanye West - Closed On Sunday (New Entry)
018.Juice Wrld - Bandit
019.Kanye West - Selah (New Entry)
020.Ed Sheeran - I Don't Care
021.Lil Nas X - Old Town Road (Remix)
022.Jonas Brothers - Only Human
023.Kanye West - On God (New Entry)
024.Post Malone - Goodbyes
025.Khalid - Talk
026.Jonas Brothers - Sucker
027.Selena Gomez - Look At Her Now (New Entry)
028.Old Dominion - One Man Band
029.Wale - On Chill (feat. Jeremih)
030.Sam Smith - How Do You Sleep?
031.Mustard - Ballin?
032.Drake - Money In The Grave
033.Kanye West - Everything We Need (New Entry)
034.Summer Walker - Playing Games (Extended Version)
035.Young Thug - Hot (feat. Gunna)
036.Kanye West - God Is (New Entry)
037.Kanye West - Use This Gospel (New Entry)
038.Quality Control - Baby
039.DaBaby - Suge
040.Luke Combs - Even Though I'm Leaving
041.Tones and I - Dance Monkey
042.Sam Smith - Dancing With A Stranger
043.Megan Thee Stallion - Hot Girl Summer (feat. Nicki Minaj & Ty Dolla $ign)
044.Michael Jackson - Thriller (Re Entry)
045.Kanye West - Every Hour (New Entry)
046.Chris Brown - Heat
047.Marshmello - One Thing Right
048.Taylor Swift - Lover
049.NF - Time
050.Halsey - Graveyard
051.Kanye West - Water (New Entry)
052.Taylor Swift - You Need To Calm Down
053.Saweetie - My Type
054.Russell Dickerson - Every Little Thing
055.NLE Choppa - Camelot
056.Matt Stell - Prayed For You
057.Blackbear - hot girl bummer
058.Camila Cabello - Liar
059.Post Malone - Take What You Want
060.Kanye West - Hands On (New Entry)
061.YNW Melly - 223's (feat. 9lokknine)
062.Chris Janson - Good Vibes
063.Kanye West - Jesus Is Lord (New Entry)
064.YoungBoy Never Broke Again - Lonely Child
065.DaBaby - Baby Sitter
066.Brantley Gilbert - What Happens In A Small Town
067.DaBaby - VIBEZ
068.Ellie Goulding - Hate Me
069.Maren Morris - The Bones
070.YoungBoy Never Broke Again - Make No Sense
071.DaBaby - BOP
072.Keith Urban - We Were
073.Post Malone - Enemies
074.Cole Swindell - Love You Too Late
075.Roddy Ricch - Start Wit Me (feat. Gunna) (New Entry)
076.YoungBoy Never Broke Again - Self Control
077.Lil Tjay - F.N
078.Layton Greene - Leave Em Alone
079.Chris Lane - I Don't Know About You
080.Megan Thee Stallion - Cash Shit (feat. DaBaby)
081.Thomas Rhett - Remember You Young
082.Kenny Chesney - Tip of My Tongue
083.Chance the Rapper - Hot Shower
084.Anuel Aa - China
085.Jon Pardi - Heartache Medication
086.Niall Horan - Nice To Meet Ya
087.Sam Hunt - Kinfolks
088.Joji - SLOW DANCING IN THE DARK (Re Entry)
089.Summer Walker - Come Thru
090.DaBaby - INTRO
091.YoungBoy Never Broke Again - Hot Now
092.Y2K - Lalala
093.Luke Bryan - What She Wants Tonight (New Entry)
094.Lady Antebellum - What If I Never Get Over You
095.Harry Styles - Lights Up
096.Dierks Bentley - Living
097.J Balvin - LA CANCIÓN
098.Ariana Grande - Dont Call Me Angel (Charlie's Angels)
099.Kygo - Higher Love
100.Internet money - Somebody


Related Torrents
| TORRENT NAME | SIZE | FILES | AGE | SEED | LEECH |
| --- | --- | --- | --- | --- | --- |
| | 749.7 MB | 100 | 5 months ago | 133 | 33 |
| | 743.1 MB | 100 | 5 months ago | 295 | 53 |
| | 743.1 MB | 100 | 5 months ago | 295 | 52 |
| | 752.2 MB | 102 | 6 months ago | 592 | 126 |
| | 739.34 MB | 101 | 8 months ago | 107 | 9 |
Tracker name
http://tracker1.itzmx.com:8080/announce
udp://tracker.coppersurfer.tk:6969/announce
udp://9.rarbg.com:2780/announce
udp://tracker.filepit.to:6969/announce
udp://open.demonii.si:1337/announce
udp://explodie.org:6969/announce
udp://tracker.torrent.eu.org:451/announce
udp://tracker.tiny-vps.com:6969/announce
udp://tracker.opentrackr.org:1337/announce
udp://tracker.zum.bi:6969/announce
udp://tracker.nyaa.uk:6969/announce
udp://open.stealth.si:80/announce
udp://tracker.ds.is:6969/announce
udp://tracker.cyberia.is:6969/announce
udp://tracker.iamhansen.xyz:2000/announce
Torrent hash:
44BEDB96200B6C19BDB3CBB10821D6B85BD1463B